About Trent Lott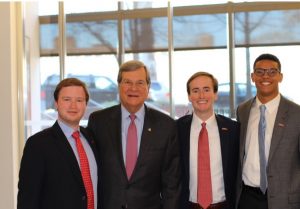 From the service of L.Q.C. Lamar in the 1800s to that of Trent Lott today, Mississippi has produced extraordinary leaders for our state and nation.  The University of Mississippi seeks to recognize the statesmanship of Senator Lott as Majority Leader of the United States Senate through the establishment of a Leadership Institute in his name. The Institute will enhance the University's mission of nurturing the development of young men and women to make future contributions to our state and nation, as well as provide training to assist and guide current leaders.
U.S. Senator Trent Lott of Mississippi is the Senate's 16th Majority Leader and the first Mississippian ever to hold the legislative body's top leadership post. A native Mississippian and Ole Miss alumnus, Senator Lott was elected to the House of Representatives in 1972 and served until 1988, when he was elected to the Senate. In 1994, he was re-elected to a second term in the Senate.
The respect shown to Senator Lott by his colleagues in the House and Senate is reflected in the leadership positions to which he has been elected. In 1979, he was elected chairman of the House Republican Research Committee, the fifth-ranking Republican leadership position. In 1980, he was elected Republican Whip, the second-ranking Republican leadership position. The first Southerner to be elected to that position, he was re-elected to the post three times.
In the Senate, Lott continued his leadership service as Secretary of the Senate Republican Conference. In 1995, he was elected Senate Majority Whip. Senator Lott is the first person to be elected to the position of Whip in both the House of Representatives and the Senate.  During his 26 years of service in Congress, Senator Lott has encouraged responsible federal funding for business, industry, education, and research to enhance the quality of life for all Americans.